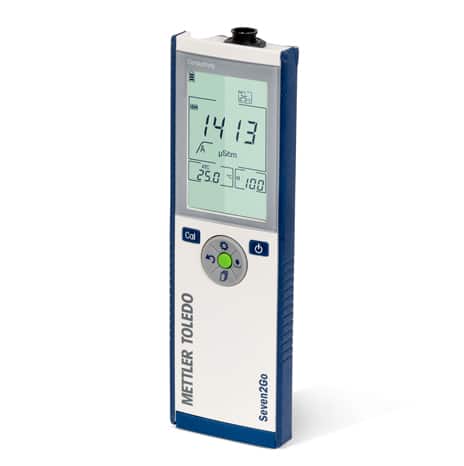 Electrochemistry in motion – powered by METTLER TOLEDO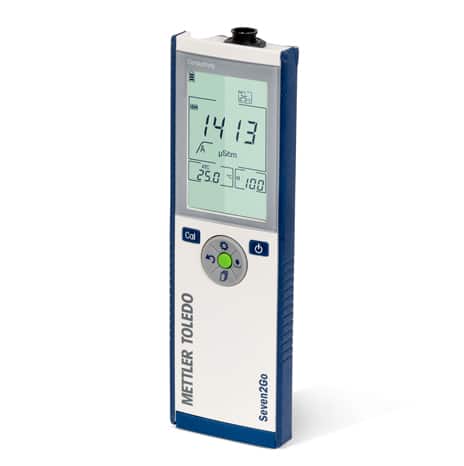 Compacts and full conductimeters
Ergonomic design for routine conductivity applications.
Advantages
Easy to use
ISM® compatible – Reduced risk of error
Weatherproof (IP67)
12 languages ​​available
Description
Specification
Applications
Resources
Robust design, optimized for one-hand operation and intuitive menu, the new Seven2Go portable instruments ensure quality conductivity measurements in laboratory, production or field conditions.
High quality data on the go.
Seven2Go Pro's simplified menus, LED Status Light and uFocus measurement screen provide mobile users with fast, high quality data.
Comfortable One-Handed Operation
Seven2Go's easy-to-reach, hardkey buttons and sleek design ensure comfortable one-handed operation, even under wet conditions and prolonged use.
Rugged investment that lasts
Seven2Go Pro's IP67 design, sunlight-proof screen, and rugged uGo carrying case ensure reliable data even under harsh and isolated conditions.
StatusLight ™ – Easy availability check
Waterproof USB port for secure data transmission
Measuring range: 0.010 μS / cm to 500 mS / cm
Resolution / precision (cond): 0.001 / +/- 0.5%
Temperature range: -5.0 to 105.0
The conductivity of ultrapure water according to the pharmacopoeia
Measure the salinity of your products
Conductivity measurement in the petroleum industry