Let's meet at the ATSR workshop!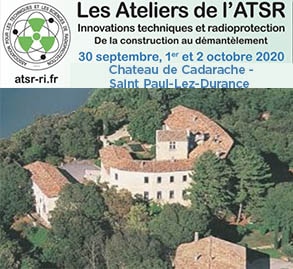 For its second edition, the ATSR will be held on 30 September, 1 and 2 October 2020 on the site of the Château de Cadarache on the theme of "technical innovations and radiation protection: from construction to dismantling" For three days, visits, exhibitions and demonstrations will take place throughout the day.
These workshops are intended for all professionals who wish to communicate and discuss know-how and equipment dedicated to radiation protection. 
Many topics will be addressed this year such as the development of innovative methods and tools, waste management and recoverable materials, individual and collective radiation protection equipment, training…
HTDS will be present and we will be delighted to discuss with you around our booth, n°1.
To register, please click here:: https://www.alphavisa.com/atsr/2020/inscription.php 
See you soon !