The smaller of the Z Portal configurations is made for scanning cars, vans, small trucks, and their cargo. Its Z Backscatter®, Forwardscatter®, and optional dual-energy X-ray technologies capture two images from each side and two images of the top—simultaneously—providing six views.
Caracteristics
Most widely deployed multi-technology system for screening passenger vehicles
Extremely high throughput at 400 passenger vehicles per hour
Two-sided Forwardscatter® imaging provides enhanced detection of shielded organics, hidden compartments, or other large metallic threats
The Z Portal system is equipped with numerous safety mechanisms. It is fully interlocked for X-ray safety; any malfunction that could cause an unexpected increase in exposure to the scanned vehicle is interlocked to prevent X-ray generation. The speed of vehicles driving through the Z Portal system is electronically monitored and X-rays are immediately shut off if the speed falls below the required threshold. The Z Portal system also incorporates redundant safety controls, such as emergency shutoff pushbuttons at several locations on the systems.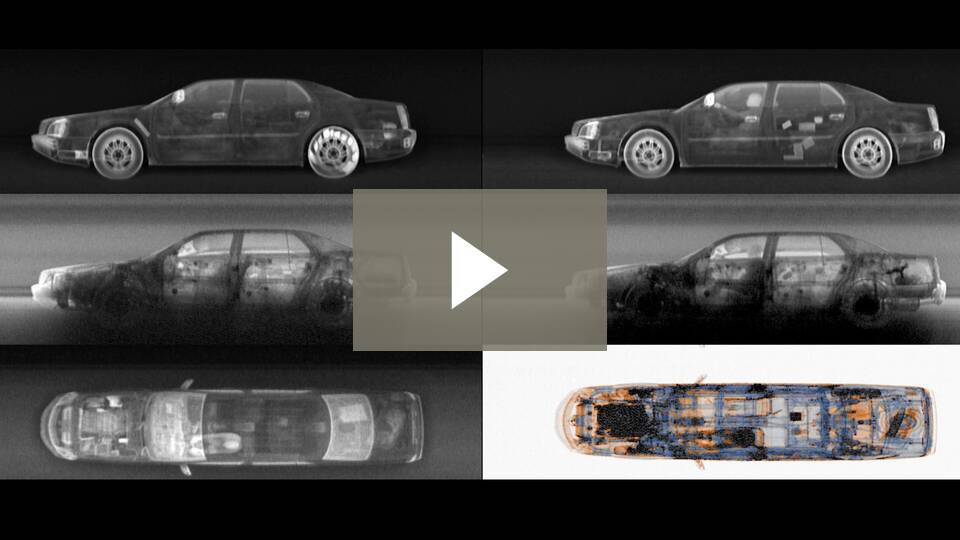 Specifications
Organic discrimination with multi-view Z Backscatter technology
Dual-sided Forwardscatter imaging displays dense regions of images
Scan Speed: Drive-through imaging at vehicle speeds of up to 20 kph
ASEInspection™ software with multiple image analysis tools