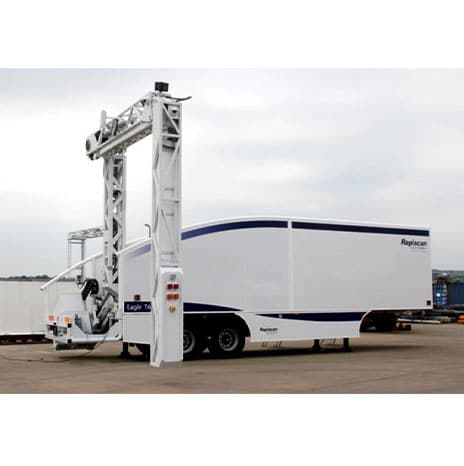 Eagle T60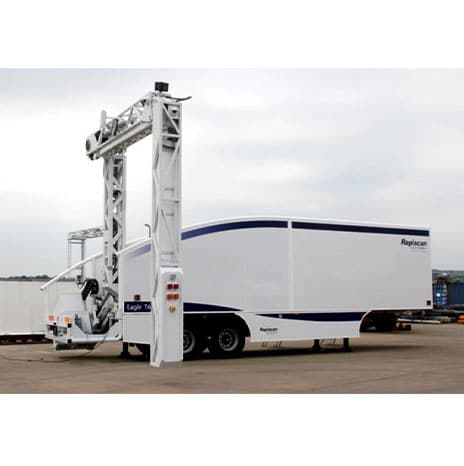 High energy trailer inspection system
High-energy, trailer-mounted vehicle inspection system for security and Customs clearance at ports and borders.
Advantages
FAST, EFFICIENT SCREENING SOLUTION
HIGH-THROUGHPUT OPERATION: SCREENS UP TO 80 TRUCKS PER HOUR IN OPTIONAL PORTAL MODE
OPTIONAL PORTAL MODE AND CABSCAN TECHNOLOGY
SAFELY SCREENS OCCUPIED VEHICLE AND CARGO
IDEAL FOR APPLICATIONS WITH CHANGING OPERATIONAL REQUIREMENTS
Description
Specification
Applications
Resources
The fully autonomous unit can be easily towed and quickly deployed, and operates in portal mode with automatic cabin exclusion or optional CabScan® mode to view the entire vehicle. Vehicles are scanned as they pass through the tunnel at a speed of 3 to 8 km / h (1 to 5 mph). The on-board inspection booth can accommodate up to four inspectors to facilitate high-throughput operations.
The Eagle T60 scans vehicles up to 5 meters in height and 2.8 meters in width without corner cuts. The system is built on a robust full frame trailer chassis, available in other configuration, with 2 rear axles and a standard fifth wheel for quick and secure connection to standard tractors capable of pulling a load of at least 25 metric tons.
Steel penetration: 320mm
Wire resolution: 1.2mm
Power: 6 MeV
Carriage: Up to four analysis stations and optional ground guidance
Shore power supply: 50Hz: 400 V, 63 A, 44 kVA / 60 Hz: 220 V, 125 A, 48 kVA
Length: 12,7m
Width: 7,1
Height: 5,8m
Operating temperature: -10°C à 40°C
Maximal wind speed: 40 km/h
Vehicles inspection
Borders
Customs