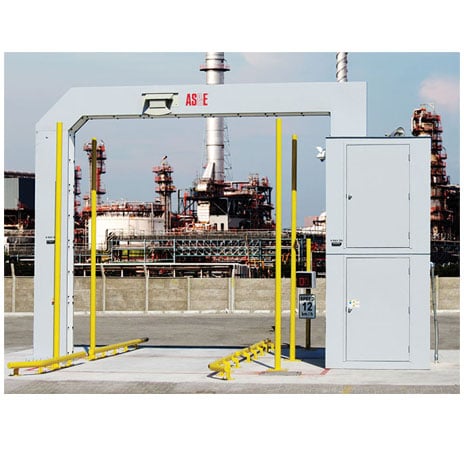 Sentry Portal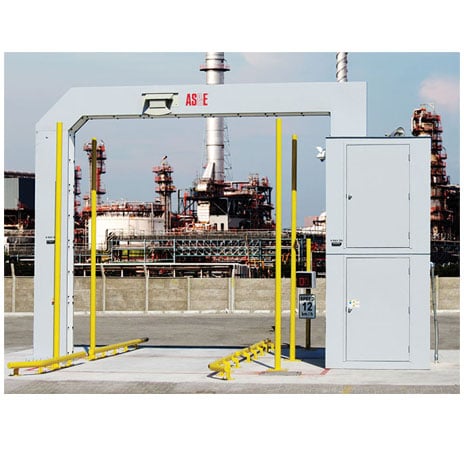 High-throughput, dual-energy/high-energy x-ray inspection system

At 150 trucks per hour, the sentry portal system provides a high-throughput, high-energy, dual-energy means of scanning cargo without compromising image quality.
Advantages
Compact high-energy, high-throughput drive-through system

Scans containers at a rate of up to 200 trucks per hour

Utilizes high-energy transmission X-ray technology capable of penetrating up to 300 mm (11.8 in) of steel

Detects hidden threats and contraband in cargo containers, tankers, and large vehicles

Advanced container-locating subsystem begins imaging after the cab has passed to avoid scanning the driver

Compact footprint and low radiation dose allows for installation in areas with space constraints
Description
Specification
Applications
Resources
AS&E's Sentry Portal drive-through inspection system provides high-throughput cargo inspection by quickly and safely scanning trucks, cargo containers, and tanker trucks for security screening or Customs enforcement.
With a compact footprint that allows for installation in areas with space constraints, the Sentry Portal system can scan a high volume of containers at seaports, border crossings, and security checkpoints. Using a dual-energy/high-energy transmission X-ray source, it provides excellent penetration—up to 300 mm of steel in high-energy mode—for normal stream of commerce cargo, while minimizing the amount of scattered radiation experienced by the cab—the lowest in the industry. As vehicles pass through the portal, the high-quality images appear in real time on the high-resolution monitor, allowing for immediate processing and analysis. Throughput is up to 150 trucks per hour. A robust container-locating sub-system ensures safe drive-through operation, so that the driver is never exposed to high-energy X-rays. For air cargo screening at airports and other transportation hubs, the Sentry Portal system can scan airport tugs pulling multiple pallets and segment each container into a separate scan record.