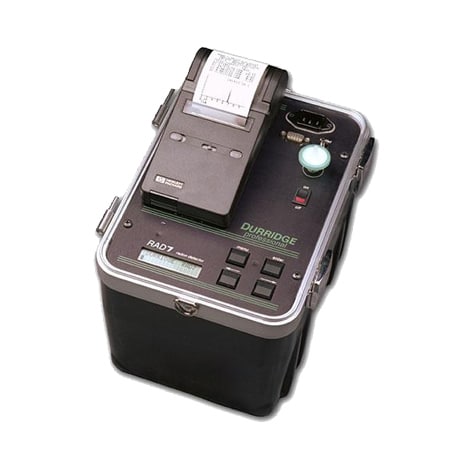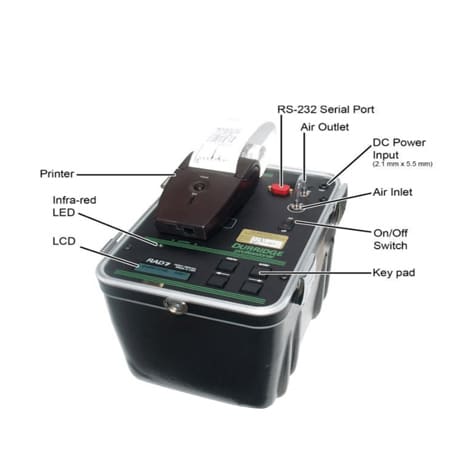 RAD7 Radon and Thoron detector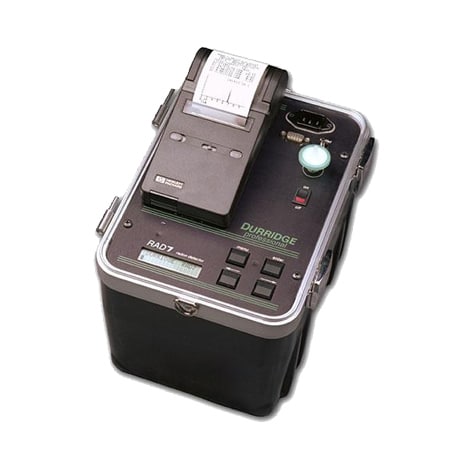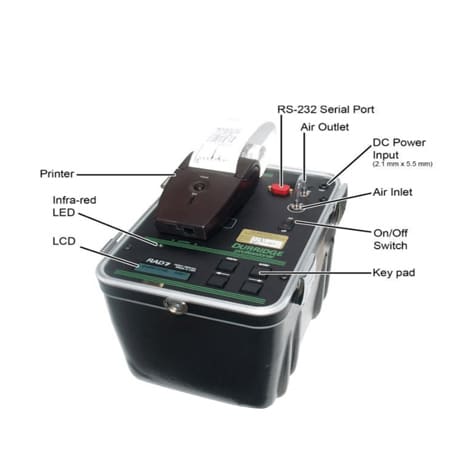 Contact a technical expert | Dowload the datasheet
Ideal for all your Radon and Thoron measurements in air, water or soil.
Electronic radon and Thoron detector with real-time monitoring and spectral analysis
Advantages
Alpha spectrometry allowing simultaneous measurement of Radon and Thoron
Background noise subtraction
CAPTURE Free software
Reinforced system for field measurements
Description
Specification
Applications
Resources
The DURRIDGE RAD7 is the most versatile radon and thoron detector used by researchers and professionals worldwide.
Its intelligent design is state-of-the-art and has no technical equal. It incorporates a number of exclusive features not found in any other radon and thoron detector on the market.
The RAD7 is the easiest electronic radon detector to use, with pre-programmed configurations for common tasks. The instrument comes with an integrated air pump, rechargeable batteries and a removable wireless printer. The RAD7 can store large amounts of radon data for later printing and/or for graphing and analysis on a computer using the powerful, free CAPTURE software.
The RAD7 is an air sampler that detects the 3-minute alpha decay of a radon progeny, without interference from other radiation. It also detects instantaneous alpha decay of the thoron chain for quick measurements. The instrument can detect radon entry points and spurts, and it recovers high radon exposures in minutes. The RAD7 is also a continuous radon monitor that can measure the EPA level of 148 Bq/m3 (4pCi/L) with a standard deviation of 10%) in less than two hours.
Number of cycles programmable from 1 to 99, from 2 min to 24 hours per cycle.
At the end of each cycle, the RAD7 system prints a complete report.
The included accessories are sufficient to measure radon and thoron in the air. A rugged carrying case encloses the instrument, ensuring reliability in the field.
Additional optional accessories are available for the measurement of radon in soil gases and water.
Technical specifications
Implanted Silicon Detector Technology
Real, simultaneous and independent measurement of Radon and Thoron
Sensitivity:

SNIFF mode: 0.25 cpm/(pCi/L), 0.0067 cpm/(Bq/m3)
NORMAL mode: 0.5 cpm/(pCi/L), 0.013 cpm/(Bq/m3)

Radon concentration range: 0.1 to 20,000 pCi/L (4.0 to 750,000 Bq/m3)
Pump flow: 800 mL/min
Physical Specifications
Weight: 4.35 kg
Dimensions: 29.5cm x 21.5cm x 27.9cm
Battery life:

24h in SNIFF mode
72h in MONITOR mode

Operating temperature: 0 to 45°C
Measure radon concentrations or radon as environmental tracer in groundwater, soil, and air
Measure radon concentrations or radon as environmental tracer in surface water
Test radon in facilities that use ionizing radiation: govt, labs, academic and research institutions, regulatory agencies, nuclear power plants, hospitals, factories.
Test ambient radon levels to protect workers at schools, universities, businesses, mines, fracking sites, etc.
Measure radon for policy setting and inspections to protect the public
Test radon concentrations in air, groundwater, and soil atbuilding sites for vapor intrusion (VI) and non-aqueous phase liquid (NAPL) contamination
Test radon concentrations in office buildings, schools, residences for real estate transactions and mitigation system effectiveness
Measure radon concentrations, monitor mitigation systems for removal of radon as a contaminant