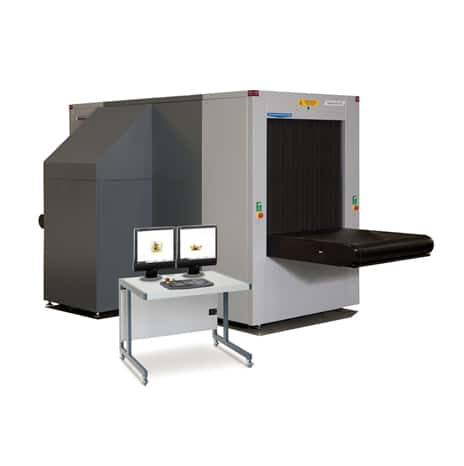 627DV x-ray scanner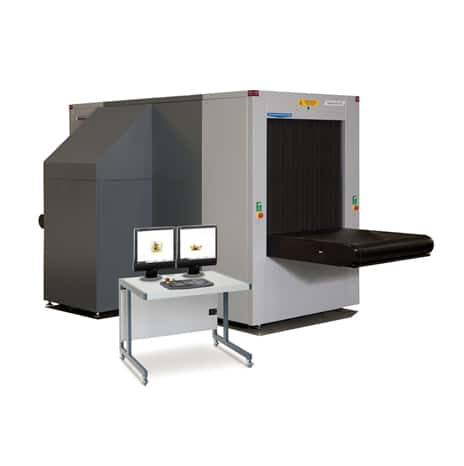 Contact a technical expert | Dowload the datasheet
Dual view ideal for small cargo and baggage screening
With a 1,000 mm (39.4 inches) wide by 1,000 mm (39.4 inches) high tunnel opening, the Rapiscan 627DV is designed for customers that need to inspect small cargo as well as baggage and large parcels.
Advantages
Large Baggage and Parcel Screening
Complex parcels
Cost Effective
Dual View technology
Description
Specification
Applications
Resources
Rapiscan 627DV (Dual View) provides a horizontal and vertical view of the object under inspection to improve throughput and object discrimination. These two perpendicular views provide a complete perspective of complex parcels regardless of their orientation in the X-ray system. Dual view technology eliminates the need for screeners to reposition and re-scan parcels in high security environments. Like all systems in the 600 series family of X-ray scanning solutions, the Rapiscan 627DV is built on a standardized platform that makes it easy to install and maintain, and comes with features such as dual-energy detection, a streamlined, ergonomic design, and Rapiscan's feature-rich OS600 system software.
Dimensions (LxHxW) : 4,560 x 2,048 x 1968 mm
Tunnel Size : 1000 mm (W) x 1000 mm (H)
Conveyor Speed: 0.20 m/sec
Conveyor Max Load: 165 Kg evenly distributed
Approx Weight: Net: 1450 Kg
Analyse des bagages et paquets volumineux, double vue
Product sheet
627DV_UK (pdf / 582,15 KB)