Redeemers' University in Nigeria: A partnership that lasts
As part of the fight against COVID 19 diseases, Redeemer's  University Ede in Osun State, Nigeria trusts HTDS for more than a year now to equip its laboratories with the latest technologies on the market with our dedicated life science solutions.
This is to enable them to quickly detect viruses or infections  and more efficiently too. Professor Happi and his team have acquired several Kingfisher DNA/RNA extractors, QuiBit units, specialized lab chip units and a Quantstudio 5.  This is to add to the 3500 Sequencer and Real time PCR 7500 that they purchased long ago.
These systems are used to perform real-time PCR assays for human identification (HID), designed for both new and experienced users, and can be set up quickly for immediate use. They also provide consistent high-throughput extraction and purification of DNA, RNA, proteins and cells.
A total of eight instruments and several consumables were carefully selected by the Professor of Genome and Molecular Biology. Thanks for his key expertise in these scientific areas.
He is also the director of ACEGID (African Center of Excellence for Genomics of Infectious Diseases), which is the WHO's (World Health Organization's) liaison on site in Nigeria, and works closely with the Redeemers University to develop innovative projects.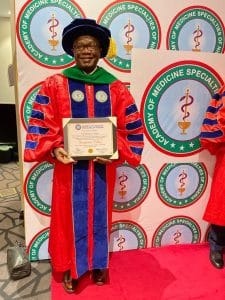 The actions carried out and the various installations confirmed the will of the country to fight effectively against the spread of the virus. Promising projects are underway, including an MOU (Memoranda of understanding) …We will tell you more soon, stay tuned!
A huge thank you to Professor Christian Happi and his team for his confidence in HTDS, and to the HTDS Nigeria team Dr Victor Ekun and David Inyang for carrying out the installation of the different laboratory solutions.